Well, we finally did it. We didn't think this social media thing would catch on. How wrong were we?
Please "Like" and "Follow" us on Facebook to keep up with all news related to our industry, our company, and programs and incentives that we'll offer.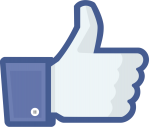 Click on the Facebook Thumb to find us.